Blog
On the Road to ID Security
14. june 2019
«Eight out of ten accidents with heave load vehicles are caused by foreign drivers" and "The government wants to expel heavy vehicle drivers" are the titles of two articles in the media the past six months, which focus on road security and the challenges linked to heavy load vehicles on Norwegian roads.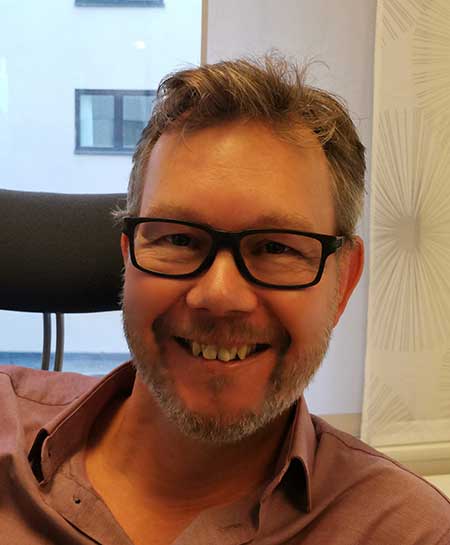 Lars Erik Andersen,
Head of section, ID School
Driving with worn-out tyres, not complying with rest regulations or DUI are some examples. An additional problem is the fact that some foreign drivers do not have the required driving licence for heavy vehicles. They have false licences, or they have used a false foreign driving licence or ID card to acquire genuine Norwegian ones. Driving a heavy load vehicle without the proper qualification for, whether it be in summer or winter, constitutes a considerable risk. It is crucial for your and my security that these drivers be detected.
Norwegian Public Roads Authority has long been aware of the problems surrounding false driving licences and ID documents, and has sought collaboration with Norwegian ID Centre to build its competence in detecting them. Between 2014 and 2018, more than 1200 NPBA officers have completed our basic ID check training. So far in 2019, 184 more have completed the training. The initial part is an individual e-learning course, and this is followed by a day of detecting false documents with face comparison, UV light and magnifier, and interview training and familiarizing oneself with background print, microprint and other ID document security features.
Another important responsibility of NPBA is to secure that driving licences are not issued to people not entitled to or qualified to hold them. Driving licence is often used as an ID document in Norway. Anyone obtaining a Norwegian driving licence issued on the basis of information in another false document is well on their way to establishing a false identity. False ID cards can be used for fraud, it may give access to public benefits to which one is not entitled, and it may give access to places one should not be, to mention but a few possible consequences.
False identity and false ID cards are also a central element of organised crime and terrorism. One well-known example is that one of the leaders behind the terrorism in Paris in November 2015 was stopped in a routine ID check shortly before the terrorist act. It has since been established that he identified himself with a false ID card which was not detected by the officer performing the check. History might have taken another turn, had the focus been more on identity and ID card that day. Which shows that this is about our joint security.
Among the training offered be Norwegian ID Centre is training in ID Check. In March 2019, 50 people took part in one of our courses. Photo: Norwegian ID Centre
Even when the consequences are less dramatic than terrorism, this is an important focus. At an overall level, knowing people's identity is a prerequisite for a well-functioning society. We need to know who lives in Norway, which rights they are entitled to from health and public services, who should pay tax and who Is eligible to vote at an election. At an individual level, it is crucial to be able to identify oneself to be granted access to the welfare system. It is vital for an employer to ensure that her employees have the proper qualifications, and it is important that parents should know who their children's teacher, football coach or nanny really is.
Norwegian ID Centre is an expert agency whose task it is to ensure the quality of ID work performed by public agencies in Norway. Training people in ID skills is among the things we do, and NPRA has taken part in this. Since 2012, we have trained around 7500 employees at various levels. Half of them work in the police, and 400 of these are now about to establish a professional community which will man the passport offices where both the new passports and the coming national ID cards will be issued.
But Norwegian Public Roads Authority and the police are not the only public agencies in need of building competence in ID work. Maybe your workplace has people whose tasks include checking ID documents? Whether the answer is 'Maybe, ' Well…' or 'No', it might be a good idea to take a look at our web site to check out what kind of training we offer. Perhaps we may be of assistance?